Capturx: A Digital Pen Solution for OneNote
First there was a keyboard.
Then came the mouse.
And now... the pen !
Today ADAPX released their newest product, Capturx for Microsoft Office OneNote 2007 v2.0, a digital pen solution that records what you write on physical paper.
With the benefit of an early sneak peek - I've had the opportunity to try out the device, integrate it into my workflow, and publish this in-depth review. As an avid OneNote user myself, the premise of being able to import anything & everything you write with a traditional pen & paper into OneNote got me really excited.
It works like this. Use the digital pen to take notes or sketch as you normally would. The data is automatically digitized and stored in the pen as you write. And when you're ready to upload the data to OneNote you simply insert the pen into its USB dock (the pen can also do it wirelessly if you have Bluetooth).
From there, the software takes over to facilitate the transfer of data from the pen to OneNote. Enabling you to see your hand written notes within only a few short moments.

Similar to the concept of a digital tablet, the ADAPX digital pen has a plethora of advantages that makes it a viable candidate as the third most useful input device on your desk (only behind the keyboard and mouse). Plus - it's more portable than a laptop. More practical than a tablet. And certainly more useful than a regular pen!
Better than a laptop? Take the pen to meetings. Take it to class. Take it to the job site in the pouring rain. All the while keeping it in your briefcase, your backpack, or even a pocket. I certainly don't take my laptop to every meeting. Nor would I be typing notes outside in the rain. Or squinting at a computer screen on a sunny day. The ADAPX digital pen enables you to go into conditions unfit for a laptop - yet with the comfort in knowing that the information you jot down is actively being digitally stored. And it lasts longer too - the pen will do up to 10 days of use with a single charge.
Better than a tablet? With an ADAPX digital pen you get functionality similar to a tablet - without needing the tablet. In fact, any regular sheet of paper can be your tablet. Well, almost. You can write on regular paper but it needs to have a special pattern of dots in the background. The advantage is that you can buy pre-printed notebooks (one complimentary notebook is included in the package) or just print the dots on standard paper using your office printer.

Better than... a pen & paper? Indeed, the concept of writing with a pen & paper has transcended the ages. And it will continue to do so. Writing on paper easy, fast, and allows for maximum creativity while you brainstorm the next big idea.
It seems logical then that we innovate not only the paper, but the pen too. With Capturx for OneNote, ADAPX has delivered in a big way.
What's in the Box
Included with the ADAPX Capturx for OneNote package is the the software, the digital pen, its USB dock, and a blank notebook so you can get started right away. You can get Capturx for OneNote with a blank 5x7 or 8.5x11 notebook, so no printing is needed.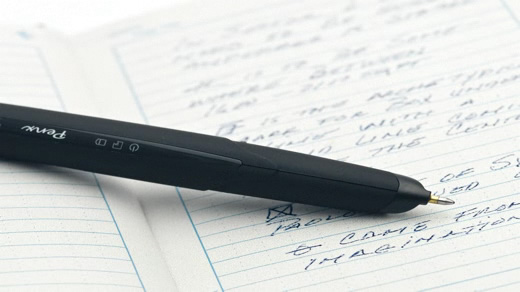 Write on Paper, Search with OneNote
After taking some notes in the journal and uploading your pen data to OneNote for the first time, you'll be delighted to see all of it organized in a mirror image of what you have in the journal. And I'm not just talking the notes - but even Page Titles and Page Numbers.
What's more, is an automatic time stamp will show up on your OneNote page denoting the exact time you made the first stroke on any page.
It is at this point you start to really appreciate the efforts of the ADAPX Capturx team for having integrated their digital pen with OneNote. Their attention to detail has paid off, the implementation is smooth and everything works flawlessly.
Once your hand written data is imported, you can run the built in OneNote command to 'Convert Handwriting to Digital Text'. Performing this immediately unlocks all of the benefits of having your notes in digital format. Such as editing, printing, and searching. Either way, regardless of if you convert your handwriting to digital text, OneNote automatically creates a searchable index in the background.
You can imagine how useful the 'Search' function is for a student, or a journalist, or an executive who writes all of his/her notes with this digital pen.
While the search feature is great, to me just knowing that my hand written data is immediately backed up and ready to be organized - is the biggest seller of all.
When you first import data, it goes into the OneNote notebook of your choice in a new section entitled "Imported Pages". Because CapturX recognizes exactly what page you were writing on, it also creates an index of pages that mirror exactly what is in your physical notebook.
Here's an example, direct from my journal, featuring notes from a recent meeting.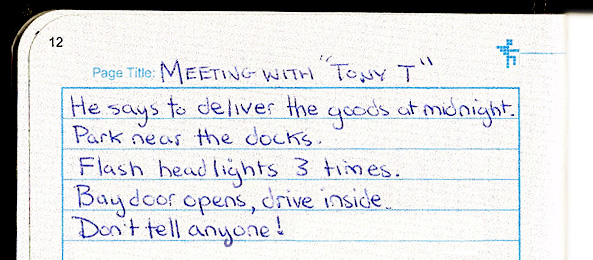 In the above picture, you can see my meeting notes as they were written in the journal.


In this second screenshot, I've successfully imported the pen data to OneNote. The notes are automatically imported, complete with Page Title and Page Number, just seconds after plugging the Pen into it's USB dock.
You'll notice that the section is entitled "Imported Pages". Along with the page numbers listed down the right hand side. The big benefit here is that your index of pages will always maintain its integrity as you continuously fill up your journal. Regardless of when you wrote on a page or how many times you went back & forth or how many uploads you make. This section in OneNote will always be a mirror image of what you have in the journal. Cool!
Create Your Own Journals
This product has tremendous long term value because you can create an unlimited number of journals or notebooks using your very own printer. Get a hole punch, some binders, and you can really maximize this digital pen to its fullest potential.
In fact, the ADAPX digital pen has inspired me to upgrade my portfolio binder. 75% of my meetings do not involve a laptop. I generally carry around a typical leather zip up binder. It doesn't have rings, so the papers are loose.
Now that all of the notes I take at meetings can be digitized with Capturx, I'll be making the investment into a better zip up binder. One that has rings. So I can print off a batch of Capturx pages, hole punch them, and establish it as my 'notebook' that exists in parallel to its digital counterpart in OneNote.

Previously I had been scanning the notes from my meetings. In fact, scanning notes from meetings was getting so tedious I found myself taking digital photos of my notes from my mobile phone - to make it easier to transfer this data to the PC. Sure enough, the photos were eventually placed into OneNote so I could organize these notes by client or project.
Needless to say, the ADAPX Capturx solution is a godsend. Now I can skip the hassles of scanning and photography by establishing a Capturx notebook that exists in both physical (my new portfolio binder) and digital (OneNote notebook) form.
How to get the Capturx Digital Pen for OneNote
You can buy the CapturX package, which includes the digital pen & the CapturX software, directly from ADAPX. Complete Details here. If you phone them to place a credit card order they will have the product shipped out within 2 days.


A Note on Compatibility
As of this writing, the Capturx software is only compatible with 32 bit versions of Windows (XP, Vista, and 7 all supported). However, this shouldn't deter any OneNote fans using 64 bit systems from introducing this digital pen to their workflow right away. For a couple of reasons. First: according to ADAPX, 64 bit drivers will be ready soon. And secondly, as a 64 bit user myself, I have discovered a workaround.
To get your Digital Pen working with a 64 bit Vista or Windows 7: download VMWare so you can create a virtual machine. Install 32 bit Windows, OneNote and then the Capturx software on your virtual machine. Then plug in the digital pen to your host systems' USB port. Restart the virtual machine. And when it boots up you'll have the Capturx software fully working. You can now import the Pen data to a OneNote notebook on your virtual machine. As a final step, you can make this work seamlessly with your existing OneNote (on the host machine) by enabling file sharing on the virtual machine, then back on your host machine selecting "File>Open Notebook... " and then browsing to the the Capturx 'Imported Pages' Notebook on the virtual machine. You'll then have immediate access to the imported Pen data from your current OneNote setup; requiring you only to use the virtual machine as a way to facilitate the USB data transfer.
System Requirements
Microsoft Office OneNote 2007
32-bit Windows Vista SP2 or Windows 7
Optional: 4-color PostScript printer
(Capturx works with many common color laser jets)
The Bottom Line...
Although digital pens have been around for about 3 years, ADAPX has for the first time created an outstanding implementation that makes it practical for an every day 'note taking' professional (ie- nerds). The digital pen, in combination with OneNote, makes for an awesome productivity enhnancing package.
The technology behind the product, which has roots in the defense industry (as many technological innovations do), really does have the potential to create a huge impact on offices everywhere around the world. An ADAPX digital pen may just become 'one of those peripherals' nerds just always have on the desk. Keyboard, mouse, and pen. Wait, that sounds absurd - we already do have pens. We've had them for centuries!
But not like this. Today, thanks to the folks at ADAPX, the 'pen & notepad' has officially evolved into the digital era.
For more information, visit ADAPX.com