> posts tagged with
inspiration

...
The Idea Book - 100 Inspiring Quotes & Tips for Making Vision Reality
Here's a free eBook I made for you! With a catch... this is a gift I'm giving away as part of a survey. The survey is for a new software product I have been designing.
So to get the a free download of the book, I invite you to fill out the Mindfolder 'early adopter' survey. The book will be delivered to you by email upon completion of the form there.
Now, with that out of the way: why "The Idea Book"?
First and foremost, this is a book to read for inspiration & motivation. The things you need to make your ideas; your dream project; your vision - a reality.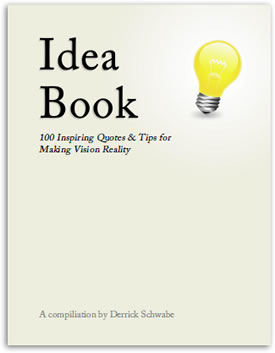 Secondly, and this is my own personal method, use this book strategically - as an initial spark- to energize you when you are about to focus on the task at hand; when you are about to take-on the very challenges & obstacles along the path to achieving your goal.
For example, I reserve a set amount of time each day to focus on my dream project. You might check out my 30 minutes a day article to learn exactly how I do it (it's super simple technique that works amazingly well).
Anyway, focus is key to manifesting reality. Yet our minds are easily distracted by the issues of the day.
So I found this book an awesome way to instantaneously sharpen focus. The powerful words included are a sobering reminder of the incredible opportunity we have before us. We really can make our ideas happen.
Fill out the Mindfolder early adopter survey to get a free download of the book.
Oh, and one more thing! By completing the survey you'll also receive a 50% discount code to use for Mindfolder v1.0 (my yet to be released software product).
Steve Jobs' most powerful quote
Steve Jobs is gone, but long will his legend live on. Throughout his tech superstar career he occasionally shared some incredibly powerful insights on business, product design, and life. Today I was going to post a compilation of several of them here, but found one so powerful that it deserves a post of its' own.
Follow your heart
Remembering that I'll be dead soon is the most important tool I've ever encountered to help me make the big choices in life. Because almost everything - all external expectations, all pride, all fear of embarrassment or failure - these things just fall away in the face of death, leaving only what is truly important. Remembering that you are going to die is the best way I know to avoid the trap of thinking you have something to lose. You are already naked. There is no reason not to follow your heart."