DeviceKnit, a cookbook for gadgets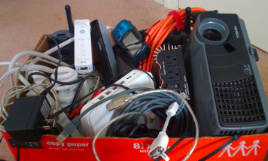 If you're into gadgets, like me, you might have some boxes around the house that have old electronics and components because you know you'll find a use for them some day. There are other devices you probably use every day that you don't know how you'd live without.
Sometimes I'll have simple setups with a few devices, to listen to music in the car for example, that I take for granted but friends find very impressive. Sometimes you just want to see the different devices that can be used to accomplish a goal or see how other people do it.
This is why we created DeviceKnit, which is like a cookbook for gadgets. It's made up of user-submitted "implementations." These are like hardware and software recipes, and by creating an inventory of the electronics you own, you'll get implementations recommended to you that make use of devices you already have.
So what are some implementation examples? Here are the top 5 most popular right now.
#5 Stream Pandora Wirelessly from your iPhone or iPod to Speakers
This is only recently possible, but different ways to stream and access Pandora seem to attract a lot of interest. Now, you can stream audio on the Pandora app from your phone to any AirPlay enabled devices, like an AirPort Express in this case.
#4 Control lights (or any appliance) with your iPhone, iPad, or iPod
This is a simple but potentially powerful way to get started with home automation, and for not very much money. Home automation has been growing for years, but now smartphones bring a few new exciting twists: 1) Proprietary remote hardware and controls don't need to come from the home automation equipment manufacturer, it can now just be an easily-updatable smartphone app and 2) Internet connectivity on smartphones means that automation monitoring and control are now available anywhere in the world, instead of just within the house
#3 Home Surveillance with iPad and Laptop
There are often products out there specialized to do exactly what you want to accomplish, but it comes at a price. In this case, a DeviceKnit user was considering buying a wireless security camera system, but then realized the same thing is possible by buying some software for hardware he already owned, which ended up being much more powerful than the more expensive purpose-built solution.
#2 Connect Droid X to TV using HDMI output
It's a pretty simple as far as an implementation goes, but in this case it's more about being sure you're getting the right cable the first time. So many people I know who own this phone were asking me what that little HDMI connector was, and had no clue their phone had so much potential when hooked up to a TV.
#1 Control PS3 using iPad, iPhone, or iPod Touch with L5 Remote
Everyone's had the feeling of too many remotes at least once. This implementation not only reduces the need for multiple remotes in your home theater setup, but adds a infrared remote control interface to the PlayStation 3, which normally doesn't have one.
These are just a few examples of implementations. In these early stages especially, we'd like to see what devices other users are using and how they're using them together.
Under the hood
DeviceKnit is a two-person founding team: Me (John Ganotis) and Jordan Messina. We also now have a few interns who are in late high-school/early college that we're mentoring in Django development and are now building most of the new features on the site.
The idea has evolved out of a few different ideas that we started to build about one year ago, and an early version of the current form of DeviceKnit was launched in early July 2010.

Backend technology
DeviceKnit is written in Django, which is an MVC web application framework like Rails, but using Python instead of Ruby. Django makes it easy to quickly code up changes and new features, which we keep track of with git. Everything is hosted on Rackspace Cloud. It took us about six months to get it built to where it is now, but that's mainly because we were trying to figure out exactly what we wanted the service to be at first and what was important to users rather than time needed to develop.

Bringing home the dough
Right now, DeviceKnit makes money through affiliate programs, so if someone discovers a device through the site and decides to buy it we get a commission on the sale through Amazon or elsewhere. There are a few avenues we may explore for building some premium features that we could charge for down the road. We make a little bit from AdSense as well.
Business objectives
At this point, we're really trying to increase the number of implementations on the site and our monthly uniques. These go hand in hand as we've seen solid growth in organic traffic that leads people to specific implementations, so as we get more implementations we are getting more traffic. We've had some investment through AlphaLab in Pittsburgh and several angel investors, but we are trying to bootstrap it until it's profitable instead of raising a lot more money.
Oh and by the way, we currently have a promotion going on to give away a $25 Amazon Gift Card or a DeviceKnit T-shirt. You can win by submitting your own implementation! See the full details at Deviceknit.com