How to use Elance to Play Games All Day
Another lazy day. Or so it would seem...
This morning I got to the office, checked the status on current projects, sent out a few emailies and proceeded to load up my saved game of Elder Scrolls: Oblvion.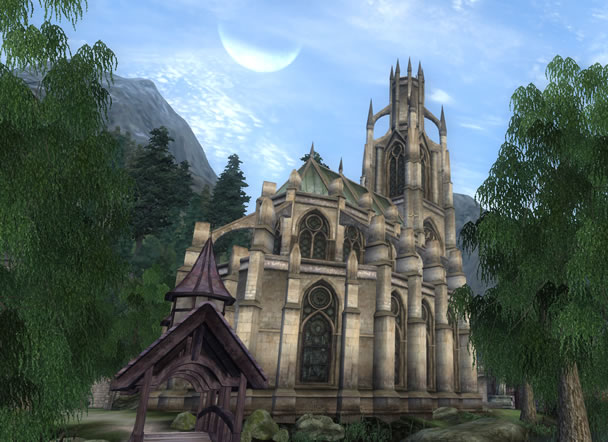 That's right - I play games at the office. After all, doing what you want, when you want, where you want are a few of the luxuries in running your own business.
It's surprising actually. Normally with so many active projects I wouldn't waste the day away like this. Especially since my workload currently involves a ton of client projects. Including six eCommerce websites. With four other web design projects on the go. Three web application projects. And about 10 related projects in "post proposal" negotiation stage.
One would assume that, given the fact I am a one man operation, that I should be spending this Wednesday afternoon tackling that garganteous workload of projects.
No, this isn't an article about "how you should take time off from work to relax" and all that jaz. The trick is to get work done by having someone esle do it for you.
So let me show you how it's done.
This post will be a condensed guide on how to outsource your workload to Elance so you don't have to do it. I'll also reveal how to get the most bang for your buck when you outsource a project: from choosing a provider, to managing the project, and leveraging each relationship for your long term advantage.
Elance is All About Leverage
In business, leverage is getting more powerful results with only a fraction of the effort, the cost, or the time. Your goal in outsourcing is to gain leverage.

Paying someone to do a project for you isn't necessarily going to give you leverage. At the most, it will buy you some time. However, paying to have the project completed for a fraction of the cost it would take you or your competitors to do it, is indeed a form of leverage.
And there are lot's of other ways to gain leverage via Elance. Not just the in terms of the cost. How many people in your local area do you know who can code complex Adobe Flex applications? Elance is literally a connection to a world of experts in nearly any given computer related skill. Using Elance to quickly find the experts needed to complete your specialized tasks is leverage in itself.
Top 5 Advantages of Using Elance
Price: leverage your region's economic advantage to get labor for much less than what you would pay.
Expert Specialization: by tapping into Elance you gain access to thousands of professionals who specialize in all types of fields of expertise, including very specialized topics like specific programming languages.
Relationship Building: every time you outsource a project on Elance is another opportunity to engage into a long term relationship with a professional in another region of the world.
Let Someone Else Do It: time is money. With Elance you can delegate your tasks so you can step aside and focus on growing your business rather than working inside of it.
Avoid Staff: employees are expensive. Time consuming. Difficult to manage. Most business owners will reveal that the most challenging aspect of their business is managing staff. With Elance, you can cut straight to the chase.
How to Post A Project
Posting a project on Elance is easy. The trick is to pre-qualify the experts you need for the project then entice them enough to work with you at your target budget. And then preserve the relationship for the long term. In this example, we'll create a theoretical logo design project.
Title: Take a few moments to think about a good title. Make it draw attention. Summarize in two or three words the theme of the project and why someone should click it.
EASY Logo Design Project
That about does it. With this title, any graphic artist will want to click it. You gave them a reason to click it. You said it was EASY in capital letters. Since you don't have to use EASY in the title of every project you post, try shaking things up a bit with words like "Simple" and "Fun Little" or "A Quick and Easy Logo Design Project".
Need 18 logo variations ASAP by Friday, only THE BEST DESIGNERS plz
This is a bad title because you're just turning people away. For one, people are going to skim over a long, complex title like that. So don't reveal anything about deadlines or specific requirements. Your goal at this point is to be seen by the maximum amount of providers which will ensure a healthy amount of bidding on the project. Allowing you to find a quality provider. Because if no one cares to look at your project, you won't get any bids and you'll be stuck with an unfinished project.

Description: After choosing the Category & Subcategory, Elance will provide you an Ajax link to view a sample project description. This will be a solid example so there's no reason to deter far from what they suggest. However, there are a few additions I always make to ensure the best results. Here's an example of what I might post for this imaginary logo design project.
Hello.
This is an easy logo design project for any graphic design expert. And by bidding on this project you'll get the advantage of prompt payment, excellent feedback, and the potential for a long term relationship working on additional projects.
You personalize it, explain who you are looking for and highlighting the advantages of working with you so the provider is inclined to bid on the project. In addition to sparking interest, many providers will lower their price to meet your budget if they see long term potential.
Project Objectives:
I'm seeking about 10 unique & quality logo variations for a car dealership who specializes in medium to high end sports cars. Once you have the 10 variations I expect to be able to pick a few to request additional tweaks. After a round of revisions, from there I will choose the one I want.
clearly state the most important needs in the project, what you expect, and specifics about what is provided in terms of files & formats. For any logo design project I highly recommend you ask for the logo in vector format so it can be used in high resolution print media
Reference:
Attached is a PDF with reference graphics, and links to logos & designs which have a similar level of quality I am looking for.
If you don't know how to make a PDF, then just post the reference links in your project description. Either way, for a project like this involving creative graphics it is extremely important to outline the level of quality you need to expect to achieve
Timeframe:
Within about 5 days you should have all 10 of the logo concepts created. Then about another week at the most should be required as we tweak it until completion.
Budget:
My budget for this project is about $190. I probably will not accept any bids over $200. This is a very simple project, and with the information I've provided you, you should have no problem creating some cool designs.
Although you state a general budget with Elance, you can micro manage this even further by indicating a specific amount right in your project description. 9 times out of 10 each provider will bid at your specified budget given it's reasonable
Goodluck, I look forward to working with you on this project and more in the future.
Files: Attaching a PDF copy of the project description is a good idea. I always upload a PDF version of the project description here so it's easy for you AND the provider to refer to your original instructions and reference. Making PDF's are easy, just use the free OpenOffice Writer to make your project descriptions and goto File>Save as… PDF
Work Type: For most projects you'll want to use a Fixed Fee
Approximate Budget: For small projects like this, under $500 is fine. If you really want to control the budget to a smaller amount, just indicate in the project description.
Who Can Bid: Until you have relationships with your regular experts in place, you'll want to choose "All Elance providers".
Sealed Bids? For small projects it's fine to use unsealed proposals. This will ensure everyone is competitive with their bids getting you the best price.
Work Location: Of course you want to choose "anywhere" because that's one of the biggest advantages of using Elance. You'll get better prices by working with providers in different regions of the world.
Use Escrow: For small projects I find this is unnecessary, although the provider can choose to require this regardless of your specification.
Choosing the right Bid
Big Providers versus the Small Guys...
It's impressive the amount of volume of projects some companies on Elance have taken on. However, I've found that the most bang for your buck is usually within those small timers who will go that extra mile to please you.
There's no reason why a big corporate Elance provider with a $1 million plus sales portfolio won't deliver a quality result, however I find that their company policies get in the way of building a relationship. The big Elance firms are big for a reason: they are automated via strategical policies that allow them to pump out results as fast as possible. They'll use project managers and typically you're not in direct contact with the actual artist or developer. Leaving you as a spectator.
The best position to be in with an Elance project is where you call the shots. Usually it's the one man operation who truly wants and deserves your business. Choose a provider who has demonstrated the level of quality you're looking and who has extended himself enough to get your attention. Some providers will go as far as to complete 90% of the project just to get your bid. These are the guys you want.
Getting the Best Results
First key to getting excellent results is obviously to pick a provider right for the job. Once you have that completed the rest should be easy. If you follow these steps.
Be forthcoming with feedback and send lot's of it. For a creative design project like this it's important to give them as much information about what you want (initially) and then how you like their work after they provide it to you for review.
You have to be consistent about what you want. Changing your mind & straying away from your original project description as posted on Elance is only going to confuse & frustrate your provider. During PMB discussions in your feedback to them you should often refer back to your original project description as necessary.
Always take the dominant role in the project. Like I said, you're calling the shots. So your first communications via the PMB should be an indication of what you expect. Be polite, but stern. And always be understanding. This may seem contradictory - but remember, if the provider suddenly goes MIA you're the one who's wasted all the time in working with them.
Make them work hard
Don't settle if you aren't receiving the level of quality of work you expect. You get more for your money, when you demand (nicely) to achieve your desired results. And sometimes this can get frustrating: for example, you may be working for weeks on end with a particular provider on a project, and still you haven't achieved the level of quality your looking for – don't just "settle" because you think he tried hard enough. Or that your being bothersome. If he's having problems meeting your expectations, he shouldn't have bid on your project because afterall, you clearly outlined the level of quality you wanted to achieve, right?
How to Preserve the Relationship Long Term
On the other hand: it's the provider who has has the upper hand throughout the project development stage. They have the ability to make or break the project so you have to do your best to cherish the relationship. Be thankful & polite. Be clear about your feedback and don't hesitate to criticize but always be complimentary about something. Keep them feeling good about working with you and you'll get the best results - and their long term dedication.
When the project is completed to your satisfaction, make payment promptly (the provider should not have to ask you) and then immediately leave a good paragraph of paragraph of positive feedback for them on Elance.
After you've made the payment & feedback, don't hesitate to highlight the fact you were fast with payment and how excellent of a review you gave. This extra attention during your relationship with the provider will go a long way.
In addition, before any Elance project is complete you should have their personal email address (this can typically be found on their Elance portfolio page). With their email address you can send them small personal emails like "Hey, how's it going? How is the weather? How is the family" which will help build the relationship. Your goal is to be their favorite customer!
This will get you the best rates, the best response time, the best long term dedication, and it makes the working experience pleasurable for everybody.