The Most Ideal Laptop Case & Backpack Solution

After selling a few websites on the SitePoint Marketplace I decided it was time to splurge on a new laptop. But not just a laptop: I wanted to fit my new notebook into the perfect laptop bag.
As a business nerd - I would need something that is strong & portable, yet lightweight & professional looking. So it can survive rugged travel AND look professional at meetings.
Which is quite the challenge - because it's hard to find a durable laptop bag that doesn't make you look like a dork when you walk into business meeting.
So I did some research on the best solution. And the results are surprisingly different than you might expect. Yet I'm absolutely convinced that I have discovered the best laptop case & backpack solution. Here are the four elements to make it happen.
Part 1:

The Laptop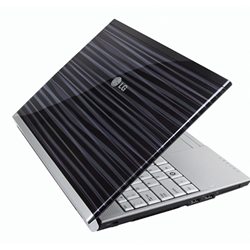 Business nerds have demanding computational requirements - we need it all: performance, portability, and the latest in features. There is no question then, that the best small laptop for power nerds to carry around is the LG P300. This is the most powerful 13" laptop available. At 3.5 pounds and barely over an inch tall - the P300 is about the same size as a Macbook Air - but with double the performance (and a $1000 less). With dual core processing, 4GB of RAM, and a 256 MB NVIDIA video card this thing is blazingly fast and can play any of the latest PC games: even Crysis (albeit at minimal settings).
13" a little small you wonder? I did have this concern since my last laptop was a 17". And my desktop system has a dual monitor setup featuring a 24". Yet the amazing color depth and screen quality of the LG P300 makes it's size a non factor. 13" really is the sweet spot for business nerds.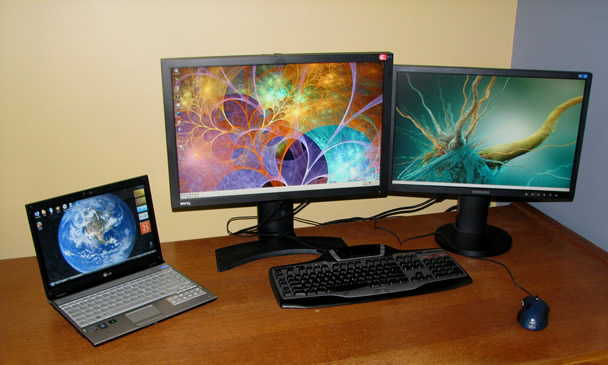 Part 2:

The Sleeve

The benefit of a sleeve is that we can take the laptop out of it's bag when attending a meeting. That way, you can look professional and not feel like silly for carrying around a clunky laptop bag. And still have padded protection for your computer. Essentially your laptop becomes a small carrying item that could otherwise be a small binder or leather folder.
WaterField Designs, a company based in San Francisco, happens to manufacture excellent quality laptop sleeves - featuring neoprene padding & tightly woven fabric - custom fitted for any notebook.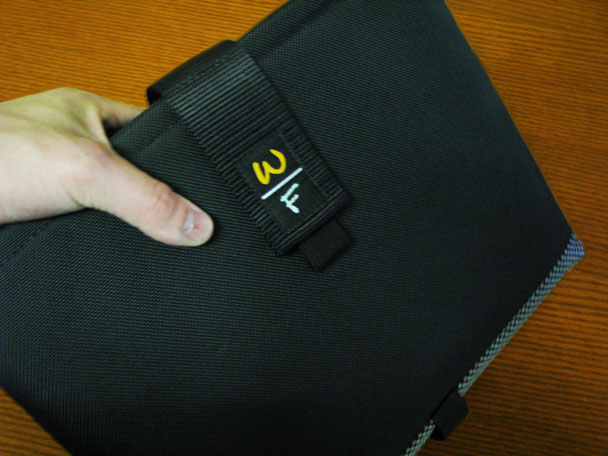 The support team at WaterField was quick to confirm the size of my laptop to ensure a tight fit. They also threw in a couple extra neoprene pads to control how deep I wanted the laptop to snuggle inside.
You have some options when buying a sleeve: you can get your sleeve with a pouch for such things as the power adapter. you can also get a flap instead of just the strap as pictured above. I chose the minimum because I planned on getting a backpack for all the extra stuff - and the flap kindof makes it look girly.
Part 3:

The Case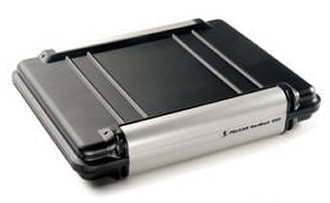 We're not just taking our laptops to meetings. Nerds tend to take their laptops everywhere. Going fishing? Dammit we just might need web access. And hell, with the case I found you could take your laptop into the boat, huck it overboard, swim to the bottom, bring it back up and pretend like nothing happened.
That's right, I wanted the ultimate in durable protection. The company I found has a product line geared to firefighters, police and military. The case is the the Pelican Hardback 1080. Waterproof, pressure locked, and even crushproof (in case you have a habit of leaving your laptop in the driveway) - this case is for Nerds who want to ensure maximum lifetime on their investment. It's lined with GorTex and also has "pluckable" padding that allows you to customize the size so it fits perfectly snug. You could drop your laptop in this thing from the top of a two story building and it would probably be okay (though I never tried).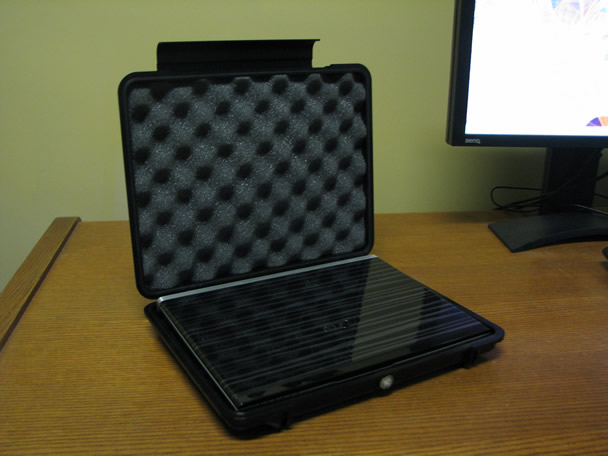 Part 4:

The Backpack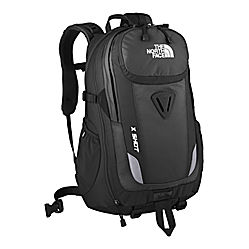 With a professional looking laptop sleeve, a rock solid case, the only thing remaining is a backpack that can carry it all - including accessories like the power adapter, mouse, PDA and maybe a few XBOX controllers to game on the road.
I had bought the Pelican case before actually finding a bag, so I assumed that the case could probably just go into any backpack and bounce around with everything else inside. Yet if I was lucky, I would be able to find a quality backpack with a separate compartment.
With the case in hand, I went to view the huge selection of backpacks at Coast Mountain Sports in West Edmonton Mall. I actually tried out a bunch of different backpacks until I found the perfect bag that would fit the Pelican case perfectly inside.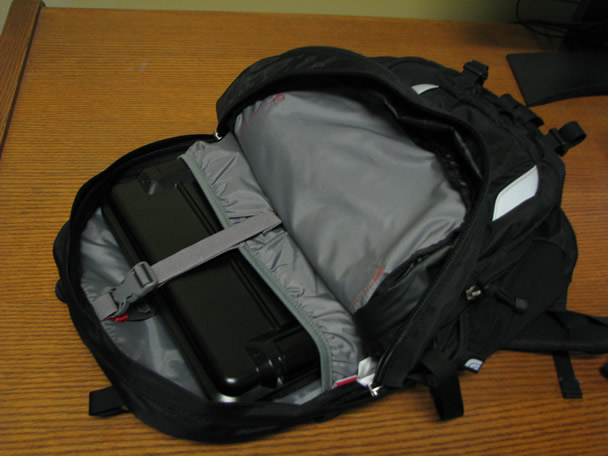 The North Face X Shot has a section for the case separating it from anything else you want to fit in the bag.
With lot's of hidden compartments and perfectly sized pouches this backpack completed my laptop mobility solution...
featuring the best small laptop, a professional looking sleeve for meetings, a military grade protective case, and an awesome bag run around with.
Whether you drive a Porsche - or you're riding mountain bike - this case & backpack solution meets the demands of today's modern business nerd.
Coming Soon - How to Change the Color of Your Laptop Shell