New Nerd Business Theme (the making of)

Recently I've launched the new theme for the Nerd Business Blog. Hope you enjoy it. For your benefit, here I will provide a rough overview of the design process.
The
Concept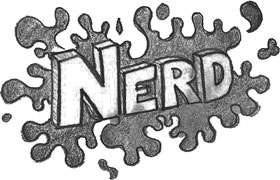 The first step to creating anything: is to have a solid concept of what you want to create. The old adage is true - everything starts with a vision. Whether you're envisioning the success of a business enterprise or a design for your website - you must first have a grasp on what the final result will be.
With a pencil in hand I set out to sketch something edgy & intense. With a commanding image of business success.
The rough concept I created featured a basic layout with splattered vector effects, 3D text and a powerful sports car to champion the header.
With this concept established - I would use a combination of 3D modeling, Photoshop, and vector graphics to get the job done. Later, it would be coded in HTML/CSS and finally programmed as a Drupal theme.
The
Porsche
What does a wealthy business nerd drive? The fastest, most powerful, and most badass street legal Porsche ever made: the GT2. With a top speed of over 200 MPH this car was made for rich computer nerds.
Rather than just snapping a digital picture or copying a random pic from the web, I knew that in order to achieve the best result (with the perfect angle, lighting, and color) that the car itself needed to be a 3D model. And that the final image would have to be generated with uber realistic rendering technology. Hence, the car was modeled in Autodesk 3DSMax and rendered with Mental Ray.
Having a 3D model for an object in your artwork introduces some key advantages over working with a typical bitmap. It gives you maximum control. Particularly for the camera angle, color, lighting & shadows. And much like a vector graphic, 3D models can be rendered on a transparent background.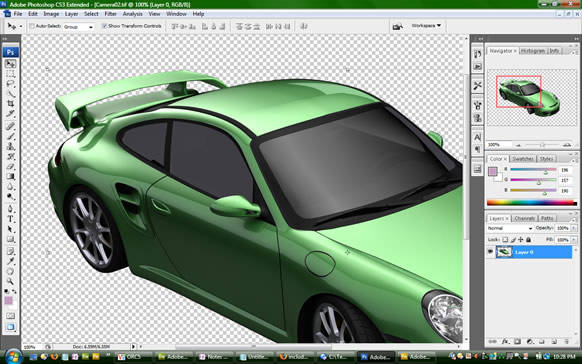 The
RSS Logo
Another 3D element in this design is the RSS icon. I'm really quite happy with the way it turned out given the fact that I spent a whole 10 minutes on it.
Photoshop was used to create the RSS symbol and then a couple other 3D tools were used: ZBrush to create the model & displacement and then Maya to render the image on a transparent background.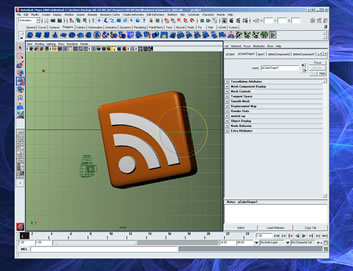 Above: my 3D RSS icon about to be rendered from Maya
For the chiseled out wall I imported a scanned image of my original sketch into Maya and traced along the edges using polygons.
The
Nerd Business Text
The letters were also created in 3D. Within Adobe Fireworks I discovered the font I wanted to use and positioned the text where I wanted it to be along with the proportions needed. Then, to create the 3D effect, I imported this concept into Maya as a background element and manually created each letter by drawing polygons while tracing along the original concept from Fireworks.
Background
Elements
In web design it is tremendously useful to have a stock library of vector artwork to add extra flare to your designs. Paint splatter & scratchy vector shapes from GoMedia's Vector Arsenal were used in the background of the new Nerd Business theme.
Coded for
Drupal
Finally, with a completed design the project was coded in HTML/CSS and then customized for Drupal. Here are some of the modules used in this Drupal installation:
My time allocated for this project quickly ran out - so it's not as perfect as I envisioned - but it's close enough. The funny thing about design is that it seems you can keep working on the same project for an unlimited amount of time.