Three Emerging Startup Hubs not in the Valley
As the worldwide economic landscape slowly shifts away from US dollar supremacy, tech hubs outside the USA are becoming more relevant; and arguably more attractive long term destinations for new startups.
Here are three 'silicon valley alternatives' with promising potential. Included are four basic ranking factors that I believe are vital to becoming a rich startup culture: access to capital, taxation, cost of living, and civil liberties.


Singapore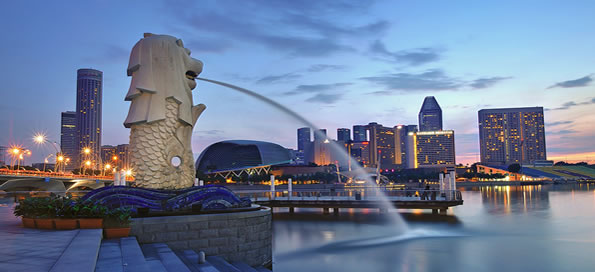 Only 40 years ago it was a third world country. Today it has the highest concentration of wealth (foreign reserves per GDP) of any other government; higher than even Switzerland. This clean, lush city state is now among the highest rated business environments on Earth. Low tax rates and pro-enterprise tax structure make it an attractive startup destination.
Located next to China, most of Singapore's 4.7 million population speak Chinese, but English is the administrative language and is also the language of instruction in all schools. Plus, almost half of everyone there is a foreigner - so newcomers have little difficulty adapting to the everyday life.
As a foreigner, starting a business in Singapore is made easier thanks to the government's open immigration policy. And once your setup shop, recruiting talent from abroad is even easier: work Visas can be applied for online, and approved within 5 days.
However, while Singaporeans enjoy tremendous economic freedom, the same cannot be said about freedom of speech. Legitimate political activities are routinely banned. The media is heavily controlled by the government. And there are extremely harsh prison sentences for non-violent crimes. A half ounce bag of weed is punishable by death, yikes!
Singapore is not a cheap place to live either, with high fuel, energy and rent costs. Owning a car is 3x more expensive than in North America. And while direct taxes are low, the country's many indirect taxes can begin to chip away at whatever mere founders salary you take.
That said, if you know the rules & you're living lean - the benefits of a high growth business environment may outweigh the disadvantages of its pervasive government and high cost of living.
Although the VC industry is small compared to the US and Europe, major firms are attracted to Singapore for all the same reasons a startup entrepreneur is: favorable business conditions for high growth potential. There is a good mix of both Western and Asian money here. Startup incubators include US based Founder Institute and Plug and Play Tech Center. Singapore's own Joyful Frog and Stream Global. And Clearbridge Accelerator, a team of technopreneurs and young scientists who share the desire in building inspiring and impactful companies back in the Singapore nation. Access to capital is amplified by large government funds such as the S$500 million Interactive Digital Media programme; encompassing games, social media, analytics and other tech.
While its timid culture has yet to cultivate a strong hacker spirit, the scene in Singapore is alive with places like Hackerspace and upcoming events such as RedDotRubyConf.
Vancouver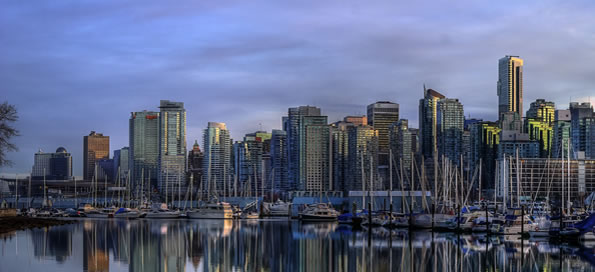 Just a two hour flight north from the Valley, Vancouver might be a convenient startup destination for US nerds looking to emigrate.
The city inherits everything that makes Canada a great place to live: clean streets, friendly people, beautiful landscape, and freedom. It even snows every once in a while.
For a foreigner, it's easy to get a working Visa and join an existing startup. The challenge right now is coming here and starting one of your own. Yet there is hope for an easier process. Inspired by the USA Startup Visa initiative, prominent investors to the north have created their own Startup Visa Canada initiative. The objective, in a nutshell, is to setup a program that gives startup founders from anywhere in the world an expedited Canadian residency if their business has attracted investment from an approved VC firm. Opening the door for talented entrepreneurs to come here with innovative ideas, pitch to investors - and potentially get both funding and permanent residency.
If Canada's recent change in tax law is any indication, the proposed Startup Visa initiative has a good chance of becoming a reality in the near future. In March of 2010, after much lobbying by the VC investment community, the government removed a serious roadblock that stalled US based venture capital funds from entering the country. With the doors now officially 'open for outside VC investment' the country is more viable than ever for high growth startups. And with Vancouver's close proximity to US based investors, it is poised to become the 'valley of the north'.
While personal income tax remains significantly high, and the 12% sales tax is nothing to get excited about, the Canadian government has made a public commitment to implement the lowest corporate income tax out of any other G7 nation by 2012.
And if you're willing to keep up with the paperwork, most tech startups can qualify for the SR&ED program - which rewards up to 40% cash back on eligible technology expenses (including salaries and development costs).
Downtown Vancouver has some of the highest rental rates in Canada. It's not impossible to find affordable places, even with a view, but if your on a budget be prepared for a tiny kitchen.
For working environments, you might try the new Bootup Garage, a new space dedicated for startup founders. There you can mix it up with other nerds, investors, and mentors. Or check out some of the local events going on. Notably this month, the Canadian Financing Forum - which will see 30 tech companies compete for the attention of investors from across Canada and the US.
Amsterdam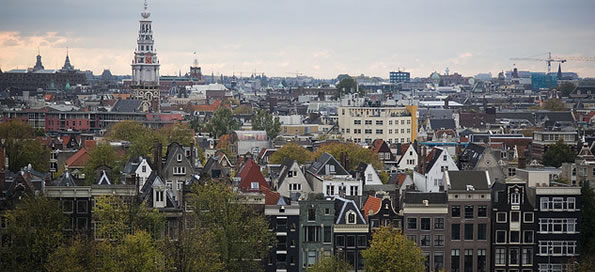 Considered by some the freest city in the world, Amsterdam may just have the right alignment of factors to cultivate a hacker community the likes of San Fran. The scale of which, it may never reach, but the ingredients are already there now: the atmosphere is relaxed. The people love their freedom. And quality of life is high.
Although the official language is Dutch, every young person and middle aged adult can speak English, which makes Amsterdam easy to settle into.
While not the inexpensive place it once was pre-Euro days, the costs of living in Amsterdam is lower than other major cities in Europe - particularly the nearby Paris or London.
Amsterdam is flat - so the first thing you're going to want to do when you arrive is to get a bike (purchase or steal; many opt for the latter option) and don't bring a helmet - nobody uses them here.
The paperwork involved in obtaining and setting up a business in Amsterdam is a barrier however. This is especially true for non-EU citizens (with the exception of a one year working-holiday visa granted for Australians, New Zealanders, and Canadians). This may ultimately be a flaw in the potential for Amsterdam to become a bustling startup scene.
As far as homegrown talent goes, there is no shortage. Many within biking distance of each other! Layar, Phusion, and InfoHubble to name a few.
Concerning venture capital , Paris and London are only a short flight away - in addition to a multitude of other financial hubs in Europe with big name firms.
If you are launching a startup in Amsterdam, be sure to consider joining the Founder Institute which recently opened a chapter there. And get in touch with STIKK - a collaboration of some of the biggest tech companies in Amsterdam.