Windows Mobile Guide: How to Play Nintendo on Your Phone
Windows Mobile has incredible potential for watching movies & playing games. And by games I'm not just talking Solitaire. On your next 5 hour business flight, instead of sleeping you could be watching Fight Club. And playing an epic quest to save princess Zelda.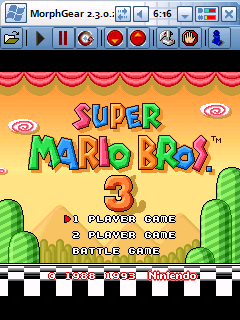 In this article, I'll show you how to watch DivX movies on your Windows Mobile device AND teach you how to setup an Emulator to play NES and Super Nintendo.

The coolest thing about having a Windows Mobile device, and the reason why it is your endless source of mobile entertainment, is having the ability to watch ANY movie (in DivX format) or play the thousands of quality games (ROMs) from the classic days of NES and SNES.

Before you leave on the next business trip, it will be important to find the movies & games you want to take. And then we'll need to setup your Windows Mobile OS with the apps needed to run them. In this guide, I'll show you what programs are needed and how to set them up.
The checklist for this guide includes a decent SD Card (at least 1 GB), an SD Card Reader to transfer files, and your computer with Microsoft ActiveSync installed.
Apps
Here are the programs you'll need. For now, just download and install them. In the next section I'll explain how to set them up.
PocketDivXEncoder
This program will convert your DivX or Xvids to a much smaller file size & resolution for ideal playback on your Windows Mobile device.
Download
Install notes: this will be run from your computer.
TCPMP
"The Core Pocket Media Player" is our media player with support for all of the common audio & video codecs including DivX, Xvid, and AC3.
Download
Install notes: Download the CAB, copy it and install it directly on your phone.
MorphGear
This is our gaming Emulator. It features "modules" that can be installed to play NES, Sega Master System, TurboGrafx-16, GameBoy, Sega Genesis, Super Nintendo and even GameBoy Advance.
Download
Install notes: Download the main MorphGear app (exe) and use ActiveSync to install it to your phone. Also download the system modules you want to play.
Let's Watch A Movie
Fight Club or any movie we'll do, so to get started, you'll need your movie in a format such as Xvid or DivX. Typically a DVD quality movie in these formats will be about 600 MB to 1.5 GB in file size. At this size, the movie is still to large for your device because A) it will take up a huge chunk of your storage card and B) your device unlikely has the processing power to play a movie of that size.
This is where PocketDivXEncoder comes in. Load up the program and select your movie as the "File to encode".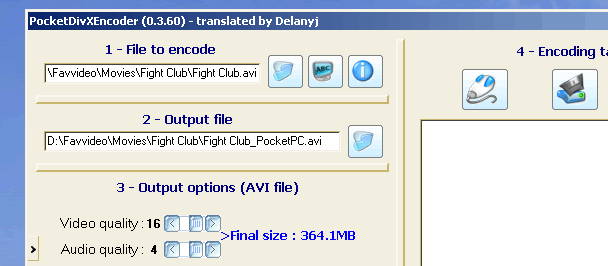 In the "Output Options" I recommend you set Video and Audio Quality to about 16 and 4 respectively.
The next important option to set is the "Output dimensions" . You'll want to set this to your device resolution. On my phone, the Palm Treo 700wx, the screen resolution is 240x240. A quick Google search for can tell you what your phone's resolution is.
With that set, press "Encode Now" and within a few minutes it will generate your movie file. Transfer it to your SD Card and load up TCPMP on your mobile device to test it out!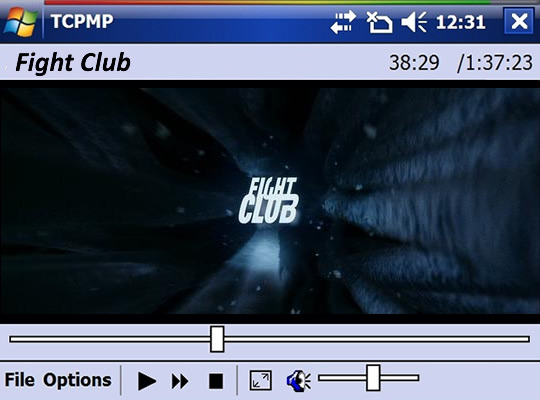 Super Nintendo On Your PDA
Download and install MorphGear to your phone using ActiveSync. Or alternatively, you can download the CAB files, put them on your storage card and install them directly from your phone.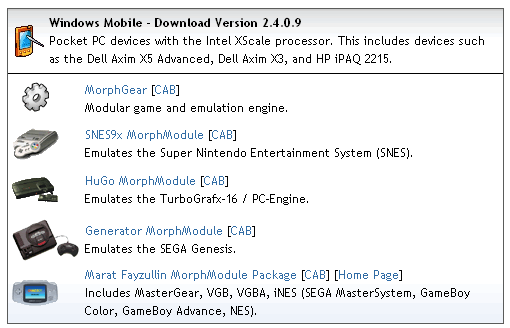 After installing the MorphGear engine, install each of the other system modules you'll want to play. I recommend the SNES because it's free. Each of the other modules do work, albeit with a 5 minute trial. Although let's say you're a huge fan of the original Tetris for NES and you NEED to have this on your phone. The price of the NES module is reasonable (about $20) and you can quickly buy a license from the MorphGear online store by clicking "Purchase" from the MorphGear official site navigation.
After installing the modules, it's time to test this out. You'll obviously need some ROMs. They're quite common and only a few megabytes each. So using Google to find them isn't difficult. Just remember : Mario loves you. If you download his games he would expect that you own the original cartridge, right ?